Undaunted by 'hey nonny noes,' Barenaked Ladies compose music for Stratford
By HELEN BRANSWELL, Canadian Press, April 7th, 2005.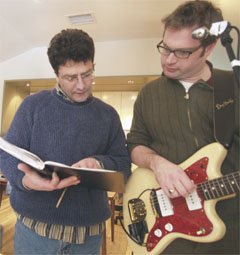 Antoni Cimolino (left), director for As You Like It at this year's Festival Theatre in Stratford, and Barenaked Ladies band member Steven Page at a recent recording north of Oshawa, Ont. (Photo: Patti Gower)
STRATFORD, Ont. — The Barenaked Ladies are masters of word play, their deftly crafted lyrics dotted with terms rarely otherwise heard on the Top 40. After all, who else weaves words like wasabe, ottoman and constipation into their songs?
But even the Barenaked Ladies experienced a moment of trepidation when faced with the challenge of working some of William Shakespeare's verse into musical numbers for the Stratford Festival's As You Like It, part of the 2005 repertoire.
"I thought... how do you put 'hey nonny' into a contemporary sounding song?" admits lead singer Steven Page, who nonetheless was eager to try when director Antoni Cimolino asked if the band would consider scoring music for the play.
While Bard and Barenaked Ladies might seem on first blush not the most natural of fits, Page understands why Cimolino felt the band was the right choice.
"I think one of the things he liked about the idea of working with us is that sometimes what's being said and what's meant (in the play) are often different. And that kind of irony is kind of our stock in trade," Page says during a recent interview.
This new production of the popular pastoral comedy is set in 1969, the summer of love. Cimolino was looking for a band that could write music with a '60s feel but a today appeal. CBC host Jian Ghomeshi—the former lead singer of Moxy Fruvous and a Stratford board member—suggested BNL. Cimolino called Page.
"I knew within minutes of speaking to him that it was right," says Cimolino, who is also executive director of the festival.
"They always have such a stress on the lyrics of their own songs. You think about their songs and they're beautiful, intelligent, fun, lyrics... And so I thought, yeah, that makes a lot of sense."
The prospect excited the band, which after a decade and a half together has been seeking ways to stretch creatively—including recently filming a pilot for a TV show.
"The more we do different things, even acting on this pilot, I find that there's just music and there's rhythm in all performance arts. And I found I like applying musical sensibilities to other areas," bass player Jim Creeggan explains. "I'd love to just (try)... the acting thing. Or interpretative dance. Or just plain tap dancing," he deadpans.
Still, Page had some initial worries, beyond the hey nonnies. He thought it would be tricky to compose tunes for existing, untouchable lyrics. It's the mirror opposite of the way he normally writes.
Typically Page will come up with a snippet of a song—melody and lyric—then will write the tune's music. Once that's complete he fleshes out the rest of the words.
"The most time is spent trying to fill in those lyrical blanks and perfect them, with the constraints being imposed by the already written music. Where here, I wrote these songs with the constraints being imposed by the text.
"I thought that was going to make this more daunting, and it actually made this easier," says Page, who found himself inspired by the playfulness and richness of the language—and the built-in musicality of the verse.
"So for instance just to be able to say a phrase like 'Under the green wood tree, who loves to lie with me?' the melody kind of sings itself," he says, then demonstrates. "I don't even notice the hey and a ho and a hey nonny no."
"Maybe we could use that in our next record," Creeggan quips.
Page says they set out to write tunes infused with the influences of '60s giants—the Velvet Underground, The Beatles, Simon and Garfunkel, Nick Drake—without being derivative.
"We all grew up listening to '60s music and it's just part of being a music fan and a musician. And I think what we've tried to do is use what we've learned from the '60s without trying to imitate specific (songs)," he explains.
The resulting songs sound like they could have been performed in a '60s coffee house or folk festival - but could also earn airplay now. In addition to the five songs in the play's text, the band has composed and recorded incidental music that will be heard at various points in the performance.
They also recorded backing vocals to support the actors who will do the actual singing. But at this point Cimolino is leaning towards using only the voices on stage. There will be one exception, however. Page also composed music for If Music Be the Food of Love from Twelfth Night. A recording of him singing the number will be heard during the play.
Cimolino is delighted with the end product.
"They have really come up roses in every way."
And the band is looking forward to their Shakespearean debut. Previews begin April 27, and the show runs till Oct. 30.
"I can't wait to sit down and see it all happen in the end. I'm looking forward to that," Creeggan says.