Barenaked Ladies' Page happy to help
By CTV.ca News Staff, CTV.ca, January 11th, 2005.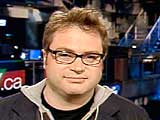 The Barenaked Ladies' Steven Page says he jumped at the chance when his record label asked his band to take part in a concert in support of tsunami disaster relief.
"It's a pretty great feeling to have your manager call and say 'We need you to do something about this' and then have all your fellow artists say 'Yes you're right. Just tell me when and where,'" Page told CTV.
"You can see that right across the country, people are coming together and raising funds. It makes you feel good to be Canadian."
CTV has joined forces with Vancouver-based Nettwerk Productions to be the broadcast partner for The Concert for Tsunami Relief, a two-hour, all-Canadian benefit concert at Vancouver's GM Place. It will to air live and commercial-free on CTV Saturday, Jan. 29 at 10 p.m. ET (check local listings).
Along with the Ladies will be fellow label-mates Avril Lavigne, Sarah McLachlan, Chantal Kreviazuk, Raine Maida and Delerium.
All proceeds from ticket sales will go directly to four charities to assist in the tsunami relief efforts in Southeast Asia. The four charities are: OXFAM Canada, Care Canada, Doctors Without Borders and War Child Canada.
Page says he, like many Canadians, has been stunned by the devastation in the disaster zone and wanted to do what they could to help.
"Canadians have decided to get involved. Whether it's the kids at my children's school raising money in a bake sale or in their offices people are coming together in a big way, in a way they haven't done before to help out.
Canada is a wealthy country and can help out and we as musicians are just trying to lend what we do to the cause."
Page is also pleased to hear that the federal government will be providing a full $425 million in aid.
"If this is how we choose to spend our budget surpluses then I'm happy."
"And I hope that this spirit of giving that has overtaken all Canadians and our government will continue," he says, adding, "I also hope it rubs off on the U.S."
Nettwerk Productions is also producing a second benefit concert to be held in Calgary on Monday, Jan. 31.