Barenaked Ladies puts heart into a Christmas-Hanukkah CD
By ED CONDRAN, The Record, December 3rd, 2004.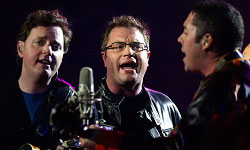 When the Barenaked Ladies decided to record their first holiday album during the spring, vocalist-guitarist Steven Page was surprised at how serious the band took the undertaking.
"You can't help but think that you'll sleepwalk through a Christmas album," Page said, on the phone from his suburban Toronto home. "But it wasn't like that.
"Sure, we know the Christmas songs and everything but we really went all out with this album."
It's not surprising that the quirky, humorous Canadian band took "Barenaked for the Holidays" seriously. As wacky as the group can be—and there are plenty of goofy moments throughout the CD—BNL has always been very focused throughout its career.
"We have fun and joke around and our fans are well aware of that," Page said. "But you have to get serious when it comes to the music and the business part of it all... You really can't make any album and take the whole process lightly."
"Barenaked for the Holidays" is evenly divided between Christmas and Hanukkah songs. "We just didn't want to do the same old style of song with this album," Page said. "It's fun to have different types of songs on this kind of album."
BNL, which also includes vocalist-guitarist Ed Robertson, bassist Jim Creeggan, drummer Tyler Stewart and multi-instrumentalist Kevin Hearn, offers distinctive takes on such classics as "Jingle Bells" and "O Holy Night." There are also some fun originals, such as "Green Christmas," "Hanukkah Blessings" and "Elf's Lament." The best of the bunch, however, are BNL's versions of Band Aid's "Do They Know It's Christmas" and Paul McCartney's "Wonderful Christmastime."
"Barenaked for the Holidays" was released independently via Desperation Records. So, no major label was pushing for a tour to support the disc. But BNL decided to hit the road, anyway.
"It's fun to go out like this," Page said. "It's nice going out when you don't have something really big at stake."
As for December, it's one of Page's favorite times of year. "I love it," he said. "You just feel so good during the holidays. And we made a holiday album, which was just a great experience."