Smart, Sarcastic BNL True To Image
By NICK CARTER, <!A HREF="http://" TARGET=_blank>Milwaukee Journal Sentinel, August 23rd, 2001.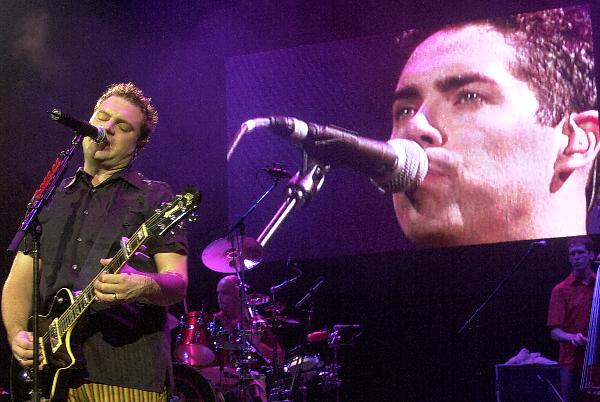 Barenaked Ladies prove to be masters of pop
"If I had a million dollars, I'd... "
"Buy the Polish moon," screamed out an audience member to Barenaked Ladies singer Steven Page's lyric Wednesday night at the Marcus Amphitheater, referring to the glow of the Allen-Bradley clock, beaming in the distance through steam emitting from the amphitheater on this humid night.
It's unlikely that many of the 15,000-plus BNL fanatics in the theater heard this, but it's likely that they had their own inspired replies; the quirky Canadian pop group inspired such creative responses in dozens of ways with their manic and eclectic range of nerd-pop songs. Wednesday night's set touched upon the band's 10-year career, including songs from BNL's breakthrough albums "Stunt" and last year's long-awaited follow-up, "Maroon."
Whether playing recent hits or delving into similar but more obscure material from its earlier albums, BNL stayed true to its smart and sarcastic image, with clever pop songs rounded out by singer-guitarist Ed Robertson's eclectic riffing and Page's rapid-fire lyrics, out-of-sync dance moves and smirky between-song cracks.
BNL started out with "Straw Hat and Old Dirty Hank," from its '96 release "Born on a Pirate Ship," with Robertson pounding away on a steel-string acoustic guitar while Page shimmied to the song's organ-driven skiffle-ska beat; next came the band's hit "Pinch Me," a pure-pop ditty whose band-referring lyric about "having no clothing on" generated delighted roars.
The stage set and props were busy but unextraordinary — lots of colored spots, flashing strobes and machine-made mist, with Page and Robertson up front, sporting a casual shorts-and-pullover look, while drummer Tyler Stewart, bassist Jim Creeggan, and keyboardist Kevin Hearn, were positioned upon a podium set up toward the back of the stage.
The '70s-style ballad was followed by an improvised nerd-rap segment led by Page that was worthy of Warren Beatty's performance in "Bulworth." (Such impromptu moments are routine at BNL concerts).
The band then went into "Never Do Anything" from "Maroon." It was followed with another from that album, the vaguely alt-pop feeling "Falling for the First Time."
BNL is a unique and exceptional talent with limited appeal. The band is masterful at playing just about every style of American and British commercial pop of the last 35 years — from early '70s a.m.-radio-evoking hits, to '80s New Wave and '90s alternative-pop — without committing to any pigeonholing style of its own. Quirky, sarcastic, parodic and masters of the half-try, the band is able to mimic and throw back all the vanities and excesses of pop's past 20 years, yet it lacks any kind of musical center or conviction of its own. Maybe that's why it's so successful: BNL is the perfect musical commodity for a casual, pure-entertainment-only-seeking pop audience disconnected from 20-plus years of preening rappers and pouting alternative rockers. They're not for everybody, but you could argue that BNL has made pop playful again without blatantly catering to an under-18 market.
All the musical pranking prepped the audience for BNL's biggest hit, "One Week," a rapid-fire lyrical stringalong that gets the band its "pop-rap" tag.
Near the end of the regular part of the show, Robertson strapped on a banjo for the run-through of "If I Had a $1,000,000," followed by yet another parody that somehow combined LaBelle's "Lady Marmalade" with the Uncle Kracker single "Follow Me."
Deadline prevented a review of the entire encore, but it began with BNL bringing out the opening act, the Scottish duo The Proclaimers, and playing one of the sibling's acts Euro-folk-rock songs, followed by a take of the BNL hit "It's All Been Done."