Star Boards — Barenaked Ladies
Eonline, July 17th, 2001.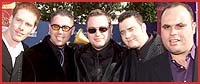 For years, the Canada-based Barenaked Ladies seemed like the Rodney Dangerfield of pop. Despite abundant musical talent, consistently clever songs and a rabidly devoted fan base, the band couldn't seem to earn the respect of mainstream critics. The group was invariably (and erroneously) written off as a novelty act because of its goofy stage persona, hummable melodies and endlessly punning, pop-culture-riffing lyrics. Granted, when five fully clothed guys call themselves Barenaked Ladies, you can bet they're big on irony and wit — but there has always been serious craft behind the BNL silliness.
In 1988, guitar-playing childhood chums Steven Page and Ed Robertson were kicking around names for the band they dreamed of forming one day. They knew they'd hit absurdist gold with the moniker Barenaked Ladies. Not long afterward, they began performing as a duo and eventually recruited Tyler Stewart (on drums) and brothers Jim Creeggan (bass) and Andrew Creeggan (keyboards).
In 1991, the group financed a five-song cassette that eventually went platinum in Canada. On the strength of the quirky single "Be My Yoko Ono" and endless live performances, the Ladies were signed by Sire/Reprise records; the label released the group's debut album, Gordon, in 1992. Though it hit number one in Canada (where it spent eight months in the top ten), the record — featuring "If I Had a Million Dollars," one of the band's signature songs — sold modestly in the U.S.
Shortly before the 1994 release of Barenaked Ladies' second album, the more seriously themed — and commercially disappointing — Maybe You Should Drive, Andrew Creeggan left the band and was replaced by keyboardist Kevin Hearn. The band's third album, 1996's Born on a Pirate Ship, produced its first American top 40 single, "The Old Apartment." Next came a live album, Rock Spectacle, which captured BNL's jaunty stage show and paved the way for the platinum-selling 1998 release Stunt, driven by the wisecracking hit single "One Week."
Sadly, the band's brightest moment was darkened by news that Kevin Hearn had been diagnosed with leukemia. As Barenaked Ladies started its first arena tour, Hearn sat in a Toronto hospital waiting for a stem-cell transplant. Miraculously, after two physically and emotionally draining years, he pulled through and rejoined his bandmates on their latest release, Maroon, produced by Grammy winner Don Was. They're looking forward to playing the new songs on tour this summer — back at full force once again.
Now's your chance to get the naked truth from Barenaked Ladies. Here's what the guys have to say about nudity, their struggle for mainstream success, how they come up with those crazy onstage skits and the ever-important... boxers or briefs.
---
From abbeychristine: Do you think struggling just below the mainstream for so many years made you a better band? How has success changed you?
Jim: I think the years we've spent slugging it out in the trenches have definitely made us a better band. If anything, it has made us better trench sluggers. Playing live allowed us to find out what we were best at. So, when the mainstream began to take an interest in us, we knew what goods to deliver. I think performing live is the best thing to keep a band moving forward, whether the big guys notice or not. There's nothing like an audience to let you know when you're on or off.
Kevin: I feel comfortable with success, because I feel we worked really hard for it.
---
From mollyjones: I first heard you guys when you were on the first Friends soundtrack, which featured a song called "Shoe Box," — my favorite on the CD. How did you get involved with that project?
Steven: Howie Klein, the president of our record company, was putting the soundtrack together and asked if we'd like to be on it.
---
From sausalito: What do you wear... boxers, regular briefs or boxerbriefs?
Jim: I like boxerbriefs.
Ed: Boxerbriefs.
Kevin: That's a very important question. I used to be a boxer man, but now I enjoy boxerbriefs.
---
From bexxis: Your most recent visit to New Zealand was a few years ago, touring for your last album. Did you like it here, and will you be back?
Jim: We had a wicked time in New Zealand. While getting over jet lag, we all went out to Kari Kari beach. There, we quickly found out what a riptide is and that staying between the lifeguard flags is a really good idea. We also hiked up the cliffs and got sunburned. It was a great band day out, just beautiful. I don't know when we'll be back, but the memories are fond.
Kevin: I wasn't there, but I would love to go.
---
From zimmone11: I had the pleasure of seeing you at Madison Square Garden in February — wow, what a great show. I went as a somewhat casual BNL fan and left pretty much obsessed with y'all. So, let's get down to my real question: Who is married (or otherwise involved)? Who has kids? And, more importantly, who is single?
Kevin: We are all "involved." What are you wearing?
---
From annieb: Since you're Barenaked Ladies, have you ever been caught bare naked? If so, by whom — and what was the outcome?
Kevin: We all get naked once in a while, don't we?
---
From travlyn: I love your lyrics. They're so thoroughly mired in human weakness. How much of your songwriting is drawn from personal experience?
Kevin: Much of mine is, lately. I like to investigate feelings, memories, fear and questions.
---
From swanny: I've seen you about a dozen times, and I keep waiting and waiting to see "Lovers in a Dangerous Time" played live. Do you ever play it in concert? Thanks — and stay naked!
Jim: I like our version of "Lovers in a Dangerous Time," as well, but since it's only really known in Canada, we've only played it there. Is a road trip out of the question? Maybe you'd like to try our lovely trans-Canada highway; on June 1, we're playing the Apple Blossom Festival at Acadia University. "Lovers in a Dangerous Time" will be echoing through the orchards. Also, thanks for noticing our close attention to grooming. It's a high priority here at Barenaked.
Kevin: Maybe we can do it next time in your town. If the price is right, of course.
---
From tlc0929: I saw you in concert back in February, and it was an amazing show. How do you come up with those crazy skits? Do you make them up as you go on stage?
Kevin: Yes, we do — every night. It's something we're good at because we do it every day.
---
From ackbargirl: I heard a rumor that at least one song on each album is recorded by the band in the buff. Is that true? If so, my guess for the naked track on Maroon is "Humor of the Situation." Am I right?
Jim: Your intuition is immaculate. It's hard to hide anything when the clothes are off. Especially when you're naked.
Kevin: You might be, and you might not be.
---
From dcskins: When will Barenaked in America be available on DVD?
Kevin: I don't know. We plan on releasing a DVD collection — videos, etc. — in the not-too-distant future.
Steven: It'll probably be released in time for Christmas.
---
From staceangel: First, I have to tell you guys what a huge fan I am, and I love your music and concerts. I was told by someone who was backstage at one of your gigs that you run around naked before a show. Is this true? And, if so, how do I get to witness this?
Kevin: It costs five dollars... and it's worth every penny.
---
From jupiters_angel: Congratulations on your recent homecoming tour of Canada — the first in over five years. How did you all feel about returning to your native land, and how do you think your concerts up north compare to shows in the U.S. or Europe?
Kevin: Our tour in Canada was really fun because Canadians have known the band longer.
---
From melclopin: I love you guys! Which of your albums is your favorite and why? (I'm a big fan of Maybe You Should Drive.)
Kevin: Maroon is my favorite. We all had a great time making it. Listening to and playing those songs brings back good memories. Also, I think Steve and Ed wrote some of their best lyrics ever.
---
From danaduckie: How do you feel when you've just returned to the bus after playing a show, and you see a group of fans coming toward you, hoping to get autographs and pictures?
Kevin: I'm so happy and thankful we have fans. Sometimes, after a show, I'm a little tired and just need some quiet time, but I usually like to say hello.
Ed: I feel like a rock star!
---
From c426tfj426: If you couldn't make money from music, would you still want to play as much as you do now? Sort of like the lady or the tiger: If one door contained money and the other music, which would you choose?
Kevin: I'll take tigers for $500, Alex.
---
From ceslasalle: Hi, all! Just a quick question about a little concert you did at Saint Mary's University, in what I believe was the winter of '91-'92. Do you ever look back on concerts like that and think about how far you've come? I remember seeing signs around campus about the Barenaked Ladies performing and thought, Who would go to something like that, and why is the school allowing it? Needless to say, I went — and have been a fan ever since! Thank you for many great memories!
Kevin: I remember seeing the band in 1992 at a small club in Toronto. I had no idea that in two years I would become a member... life is so strange.
---
From duopenultimate: My friend seems to think that the chorus of "Pinch Me" has to do with sex. Does it?
Kevin: Not that I know of... Ed?
---
From maggiewin: If you were stranded on a desert island that was fully catered, save for condiments, what condiment would you want? Salt and pepper don't count as condiments, and even if they did, stranded on a desert island, you don't need salt.
Kevin: How dare you tell me I don't need salt on a desert island!
---
From lothlorien9: Do you guys crack yourselves up while singing or writing your songs? If so, what song, out of all of 'em, do you think is the most fun or funniest? Thanks for cracking me up!
Kevin: Yes! We do crack ourselves up — that's why we have fun shows. We share the same warped sense of humor. It's fun, but it has also helped us deal with some pretty stressful situations in the past.
---
From marilynn28: How do you have a family life with your wives and kids while you're on the road touring all the time? It must take a lot of juggling and understanding. I don't know how you do it.
Kevin: Well, I don't have a family, and the road is still tough. It's difficult sometimes to stay in touch with friends who aren't part of our traveling circus. Email has been really helpful.
---
From venoid: How's Kevin doing these days? I'm a big fan, and a cancer patient, and I'm inspired by his strength.
Kevin: I'm doing well right now, thank you. The last few years have been tough and a real test. Fighting for my life put me in touch with myself and helped me see the important things in life. I'm really happy to be back making music and doing what I love and feel I was meant to do. I never take it for granted. I hope you are well and able to be happy. Good luck.
---
From sullivanam: During the Maroon tour, you played the "Every Song We've Ever Written" medley. Will you ever do a "Greatest Hits" or "Oldies" tour and play the older songs in full?
Kevin: We have actually discussed doing a short acoustic tour of theaters. We would probably play more of the ballads in such a situation, songs we don't get to play as much, such as The Flag.
---
From tvwife: Do any of you have a fear of anything? If so, what is your biggest fear?
Kevin: Raisins.