Barenaked Ladies Live: Eat The Band, But No Mac And Cheese Please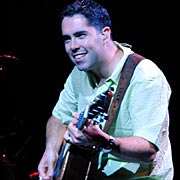 By PAUL ROBICHEAU, sonicnet.com, July 23th, 2001.
---
BARENAKED LADIES
Tweeter Center, Mansfield
Saturday, July 21, 2001
---
At Boston area tour stop, band mixes humor and music, as always.
Boston was one of the first U.S. cities to embrace Canada's Barenaked Ladies, who played many sold-out concerts through the late '90s there, including a legendary free radio show for a crowd of about 80,000 at City Hall Plaza.
Given the band's cheeky humor, however, it shouldn't have been a surprise that guitarist/singer Ed Robertson told 19,000 fans at the suburban Tweeter Center Saturday that the Ladies had never played Boston. Instead, he made note of a nearby Starbucks, and declared, "The history out here is second to none."
Even without the jokes, though, a two-night stand near the start of a national tour was bound to build on BNL history with the group's Boston area faithful. "There's something different at every show you go to," said Canton, Massachusetts, native Dawn Michelson, 23, a veteran of several BNL concerts, including City Hall Plaza.
The quintet, joined by an accomplice who played tambourine in a BBQ chef's outfit, lived up to its reputation from the start with repartee-laden spontaneity. When some fans held up a sign that read "BNL: The other white meat," drummer Tyler Stewart piped, "If you run out of chicken and pork, you can eat us," before the group slid into a loose ditty about a robotic dog that Robertson had recently bought.
The band later unveiled a neo-metallic song called "The Wizard of Magic Land" ("I hope you don't remember this from an old Uriah Heep album," Robertson said), with co-frontman Steven Page pacing through a sweeping, melodramatic vocal.
Kevin Hearn rocked "Alcohol" with a barrelhouse piano solo while Page and Robertson ran around strumming their guitars, and the illuminated letters "BNL" unfurled from above. The Broadway-ish acronym lent a surreal counterpoint to a bizarre inflatable head with mosaic face and drinking-straw hair at the rear of the stage. And for good measure, "Alcohol" segued into a Stewart-led disco romp through Canadian band Loverboy's 1981 hit "Turn Me Loose."
Oftentimes, when bands grow popular, favorite gambits become a monster out of control. Yet Barenaked Ladies fans showed a willingness to keep things as fresh as the band they love. Fans threw some panties onstage (which Page and Robertson draped on their guitars) after the line "I just made you say underwear" in "Pinch Me." Yet the crowd refrained from an older habit of throwing macaroni and cheese during "If I Had $1,000,000," and cheers didn't get much louder for 1998's tongue-twisty #1 whirlwind "One Week" than the other songs served over a two-hour set.
Page's distinct, Morrissey-like crooning pumped life into "Everything Old Is New Again" and "Break Your Heart," which had women singing along to every word, down to its climactic final notes. Bassist Jim Creeggan even earned screams for a bowed upright solo. Only the mellow twang of "Tonight Is the Night I Fell Asleep at the Wheel," a sobering first-person account of a car crash which caps the more serious side of BNL's latest album Maroon, appeared to give fans a moment of pause.
The Ladies primarily pushed upbeat buttons, swinging between sheer pop gems such as "Too Little Too Late" and encore "Brian Wilson" and vaudevillian pranks like Page and Robertson's kiss-on-the-lips dance and a cover-medley finale that bridged operatic show tune "Tomorrow" and human-beatbox raps.
"They're goofy, not your normal, systematic band," said Paul Silvestri, 34, of Westerly, Rhode Island. And Jennifer Knightly, 31, of Marshfield, Massachusetts, said, "It seems like they have as much fun at their concerts as their fans do."