Barenaked Stylist
By LAYLA APPLEMAN, chickclick, February 19th, 2001.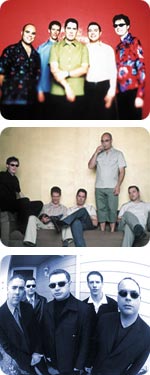 Lately it seems like style has taken the place of substance in pop music. The importance of an artist's "look" can play a big part in determining whether or not they'll make it.
Luckily for the Canadian rock band Barenaked Ladies they have both the musical chops to garner Grammy nominations and the fashion help of stylist Eric Berg to help make them a complete package.
Berg has helped turn the foursome into music-video style mavens with dramatic and eye-popping looks in all three of their hit videos ("Pinch Me," "One Week" and "Too Little, Too Late").
Aside from transforming the Barenaked Ladies into bonafide rockers, Berg also created the sexy looks of Toni Braxton in her video "He Ain't Man Enough" and Mya's TRL hit "Free."
ChickClick caught up with Berg to ask him about working with the Barenaked Ladies, how he got into the biz and how he makes Toni Braxton look so damn good.
ChickClick: How did you get started styling for The Barenaked Ladies?
Berg: I was working with McG, the director of Charlie's Angels. We were doing a lot of music videos. While he was working on one of their videos he convinced them to use me. I've been working with them ever since.
How did you get started in the business of styling? Did you go to school for it?
There really isn't a school for stylists. But I was a designer of shoes and accessories that I used to sell at Saks and Neimans etc. I was living in Portland, Ore., where I was doing some designing. Then I moved to Los Angeles in 1992, which was a great time to get into the business. I knew some people who were in the business and I stated out assisting them. Next thing I knew I was doing music videos — Dig's "Believe" was my first video.
In all three of the videos you have done for BNL you use really intense color with the costumes of everyone in the video, while keeping the band members kind of simple.
So they don't blend in with everything going on around them. Either they have to be really colorful and everything else has to be really understated. When you have video treatments with a lot of color you have to bring [them] together in a way that makes them look like they are in a band.
Which of the BNL videos was your favorite to work on?
"One Week" had a lot of costuming, which was a lot of fun. But I had to have a week of recovery after working on that one. (laughs) We literally fitted them the night before the shoot. On the last video "Too Little, Too Late," the director was throwing a lot of outfit changes at me — but the great thing is things go by pretty fast.
What's your favorite video on MTV?
I really like Snoop Dog's latest album. I love seeing musicians embrace the past. I love the period stuff from the '20s and the '30s. I'm a big movie buff and I'm influenced a lot by the past.
Do you have a favorite designer or do you look for more boutique styles?
It really depends on the project. I can really love Christian Dior or Gaultier to death, but if it doesn't fit with what we are doing on the video, there's no point in bringing it on board.
Tell us about other celebrities you've styled.
I just did the video of Mya's that's running on TRL now called "Free." With that video she had eight costume changes and we fit her the day before the shoot. I also did the majority of Toni Braxton's stuff last year ("He Ain't Man Enough for Me") and her album cover. Toni is really good to work with because she doesn't think she can get away with wearing anything — even though she can.
Have you had any on-set disasters or disappointments?
I actually haven't had an on-set disaster in a really long time. The only thing that didn't workout this year was Eminem. I was doing costumes for his new band E 12, and we were having money issues. They weren't too happy that I chose to do the BNL video instead of flying to Detroit to deal with Eminem in the snow.
Are you excited about the BNL Grammy nomination?
Those guys really deserve it. I'm happy to see that they're doing so well.
If a young woman asked you for tips on how to get into the business, what advice would you give her?
There's really two ways to go about being a stylist these days. You can work at a boutique or high-end store like Gucci, and get attached to stars that come in. But the best way is to go to New York and work at a magazine. You start out assisting the editor and then eventually become the fashion editor. In order to do it that way, you probably need to go to school.