Barenaked Ladies Just Want To Have Fun
By LYNN SAXBERG, The Ottawa Citizen, February 25th, 2001.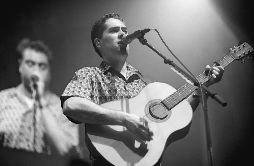 Band members were ecstatic to return to Ottawa after long absence
The Barenaked Ladies elevated childlike goofiness to a form of art during their concert at the Corel Centre on Friday.
Despite all the talk of the Toronto-based band growing out of their antics, the Ladies proved to a crowd of about 8,500 that they're still a fun-loving bunch.
The joie de vivre emanating from the stage was so strong the arena fairly glowed under the light of the unselfconscious grins that radiated from the audience, a rare sight in the take-me-seriously world of stadium shows.
It seemed the only thing the Barenaked Ladies wanted to prove was the fact that they were happy — heck, ecstatic — to be back in the Ottawa area after an absence of five years, during which time they soared to the top of the charts in the United States.
It didn't take long for us to get the message. Leaping into the show with a fully electrified version of Too Little, Too Late, the first song on the latest album, Maroon, one could not only feel the band's enthusiasm, but also marvel at their musical chops, which appear to have been sharpened to near-perfection during their years of non-stop touring.
Their wits are in pretty good shape, too, as evidenced by the banter between band members that never failed to exclude the audience. One thing the band has learned since its early days is that inside jokes don't carry a show in front of a big audience.
When singer-guitarist Ed Robertson, for example, mentioned going out for a smoked meat sandwich, obviously referring to the smoked-meat jokes during the Lunch with the Ladies television interview that afternoon, he got little response. Wisely, he dropped the subject altogether.
Later on, the band members were laughing among themselves about some of their experiences in Ottawa a decade ago — surrounding a month of weekly gigs at Cafe Deluxe on Dalhousie Street — but Robertson graciously shared the joke so no one felt left out.
Interestingly, many people in Friday night's audience probably first tuned in to the Barenaked Ladies around that time. It was a remarkably mature crowd for a band that has such a youthful appeal south of the border.
In the U.S., BNL tends to attract students — from elementary school on up. Here, they attract plenty of people in their 30s and up, some of whom brought their children to Friday's concert. Members of that demographic must remember the band with fondness from their own university days — and many of them likely still own a copy of the band's first independent cassette, a slapdash recording that sold an astonishing 50,000 copies.
That may explain the wild response to old material such as If I Had $1,000,000, Brian Wilson and their engaging acoustic version of Lovers in a Dangerous Time, the Bruce Cockburn song the Ladies recorded years ago and dusted off especially for Ottawa, they said, because Cockburn is from Ottawa.
Much of what endeared the band to fans in those early days has remained intact, including their sense of humor, their wacky choreography, and their spin on politics and pop culture. Friday's concert was big on spontaneous verbal riffs — often prompted by a sign held up in the audience — as well as local content, such as a bit on BeaverTails that morphed into a hilarious version of Smoke on the Water ("Slap on the water/ dive for your life"), and an impressive display of Ottawa Valley place names ("Is Carp in the house? Is Arnprior in the house?")
Robertson also introduced the band members as politicians, with Alan Rock on bass, Sheila Copps on drums, Herb Dhaliwal on guitar and "special guest," Tony Blair.
Flanked by giant parade-type balloons and a colorful monster's face as a backdrop, Robertson and singer Steven Page leaped in tandem, danced like Looney Tunes characters during One Week, and then capped off their performance with a mock-passionate kiss.
Another comedic highlight was a whirlwind medley of current pop hits that started with Eminem's Slim Shady and included Nelly Furtado's Fly Like a Bird, Madonna's Music and Baha Men's Who Let the Dogs Out.
But none of it diminished the band's musical ability. Robertson has turned into an eminently capable guitarist, while drummer Tyler Stewart balances crisp time-keeping with flashy cymbal work and bassist Jim Creeggan anchors the band with a solid but subtle bottom end.
The band's musical character was further defined by the contrasting styles of the two main singers. The reedy, fluid voice of lead singer Page, who handles the high notes impressively, blended well with the more natural but less dynamic vocals of Robertson, who does an amazing job on the tongue-twisting rap sections.
What's more, the talent and devotion of Kevin Hearn was inspiring. The multi-instrumentalist, who recently battled leukemia, was clearly delighted to be alive and well and on stage as he contributed delicious keyboard, guitar and accordion parts. He also provided a short Star Wars-meets-Britney Spears interlude that was so funny one fan was overheard wishing for an MP3 bootleg copy.
Come to think of it, some of Hearn's sweet personality seems to have rubbed off on his band members. The smart-alec attitude that used to overshadow Barenaked Ladies' craft has been replaced by a sensitivity — toward their audience, their music and each other.
In fact, for all the bouncing, laughing and revelry that was going on, one of my favourite songs was a slow one from their first album. What a Good Boy is a tune about growing up and fearing the future that must have been written when Page was still a teenager.
Even now that he's a 30-year-old father of two children (with one more on the way), he sings it with the same passion.
What a good band.
Singer-songwriter Chantal Kreviazuk is touring with the Barenaked Ladies as their opening act in her first performances with her own full band. On Friday, the Winnipeg native delivered a striking set, but the inexperience showed.
While Kreviazuk is in command when she's front of a piano, she seemed to have a difficult time settling into the role of front woman. She spent much of the time singing with her head down and shoulders hunched, when she wasn't jumping between guitar, piano and microphone.
It was a terrific band, though, that has the potential to boost Kreviazuk's performance power — just as soon as they find a groove together.