Baring It All
By JENNIFER SLIVKA, The Digital Collegian, February 12th, 2001.
Barenaked Ladies wow audience with stage antics and catchy tunes
One thing can be said of the Barenaked Ladies. They never fail to entertain and amuse.
Friday night, the Bryce Jordan Center was packed with an audience of mixed ages and backgrounds, all eager to sing along to their favorite songs and laugh at the band's comedic antics.
The five band members kicked off the festivities by running on stage through the mouth of a giant mask that sported dread locks. They didn't waste any time and immediately opened the show with "Too Little Too Late," from their latest album Maroon.
Although Steven Page (guitar, vocals) and Ed Robertson (guitar, vocals) dominated much of the stage, Tyler Stewart (drums), Jim Creeggan (bass), and Kevin Hearn (keyboards) also had opportunities to make the crowd laugh.
The set list was an interesting one. About every other song was some sort of comedic tune or act. The first one was what seemed liked a scene from Whose Line Is It Anyway? when Page and Robertson did an improvisational rap, complete with scratching vinyl and a chorus of "scratch and sniff me."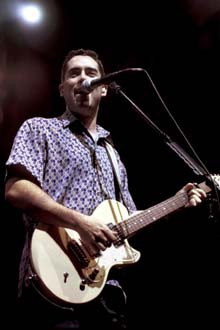 Barenaked Ladies concerts often resemble WWF wrestling matches, with extended commentaries by band members and homemade signs held up by fans to entice the band to call them out. One lucky concertgoer received his wish.
Robertson brought a college student, who identified himself simply as "Fred from New Jersey," onto the stage to play a song on his guitar. Fred took up the challenge and successfully played "Pinch Me" without error. The crowd ate it up, and began cheering for Fred.
Then it was Kevin Hearn's turn to have some fun. He began to play "The Imperial March (Darth Vader's Theme)" from Star Wars, but modified it a bit to fit the Britney Spears hit "Oops! . . . I Did It Again," but with lyrics from Vader's point of view.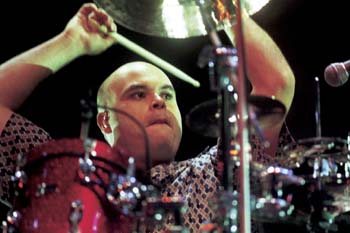 Jim Creeggan put a classical twist on his bass solo, and Stewart's drum solo was made funny by an announced disclaimer that said, "This isn't a drum solo. Do not go to the bathroom!"
"It was a comedy hour and concert in one," said Mary Risso, a student from Bloomsburg University.
Page took advantage of his appearance on "Celebrity Jeopardy" that was being aired that night to further humor the crowd. He lost and was all too eager to feed the episode onto the center's large screens.
The crowd went crazy when the band played its hit single "One Week" and sang every word of "If I Had $1,000,000" in unison.
The Barenaked Ladies also imitated television infomercials by playing a medley of old favorites like "Hello City" and "These Apples" while the titles of the songs appeared on the screens.
The night's set was concluded by a medley of cover songs of Eminem, Kid Rock and the Baha Men. Two encores and twenty minutes later, the show was over.
"I thought it was really good," said Jennifer Heine (sophomore-accounting). "I only heard a couple of their songs before, but I really enjoyed the show."