BNL Return to the Road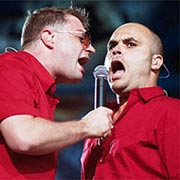 By JENNIFER VINEYARD, RollingStone.com, January 12th, 2001.
Barenaked Ladies Steven Page talks about the band's next tour, video
Just coming off the rush their Grammy nomination for "Pinch Me," the Barenaked Ladies are already moving onto their next single ("Too Little Too Late") and the next leg of their Maroon tour, which kicks off February 7th in Atlantic City and wraps March 8th in Seattle. "We're touring non-stop," singer/guitarist Steven Page says. "We're just going to do this until the album is driven into the ground and everybody's sick of it."
Not that it's likely Page and Co. are going to be sick of Maroon themselves anytime soon. Thanks to the spoof-heavy parody aspects of their live show, he says that every night is different: "Even if the set list is the same, there's enough improv and nonsense to keep it fun."
So much fun, he says, that he finds it difficult to write on the road. "I have to go home and get grumpy to write songs," he says. "I kind of have to live a real life. And the world doesn't need to hear road songs anymore. They have resonance for a very small amount of people. [Sings] 'I miss my baby/Geez, that stripper was really great!' It's silly. I mean, truckers like them, but that's about it."
And giving the world more road songs wouldn't solve the current dilemma that Page sees in the songs on the chart as of late, "where there's been a dearth of really amazing, blow-me-away, make-me-weep kind of music," he says. "There's a distinct lack of beauty in music right now." Some pop songs, though, he says will do in the meantime, if only they were tinkered with just a bit. "'She Bangs' by Ricky Martin, as far as I'm concerned, slow it down by half and it's a lost Leonard Cohen song," he says. "It's got this minor key kind of thing, and I think Leonard Cohen would be proud to sing it."
As for BNL's own work, the band just wrapped the video for "Too Little Too Late" in Los Angeles, which has a "fairly convoluted" premise, since it's a film within a film within a film within a film. "We're making a rock video, and then it pulls back and you see that it's actually a film about a rock video," he explains, "and then it pulls back and you see it's a news report about the film, and then it's a home video, and it just doesn't stop. And if someone did a news report about that, then you'd be in the video. That would be cool."
Barenaked Ladies tour dates:
2/7: Atlantic City, NJ, Taj Mahal/Mark Etess Arena
2/8: Rochester, NY, Blue Cross Arena
2/9: State College, PA, Bryce Jordan Center
2/11: Beavercreek, OH, Wright State University, Nutter Center
2/12: Richmond, VA, Stuart C. Siegel Center
2/14: Wilkes-Barre, PA, First Union Arena
2/15: New York, NY, Madison Square Garden
2/16: Amherst, MA, Mullins Center
2/18: Toledo, OH, University of Toledo, John F. Savage Hall
2/19: East Lansing, MI, Jack Breslin Center/MSU
2/20: Hamilton, ONT, Hamilton Place Theatre, Copps Coliseum
2/22: Montreal, QUE, Molson Center
2/23: Kanata, ONT, Corel Center
2/24: North Bay, ONT, Memorial Gardens Sports Arena
2/26: Winnipeg, MB, Winnipeg Arena
2/27: Regina, SK, Regina Agridome
2/28: Calgary, ALB, Canadian Airlines Saddledome
3/1: Edmonton, ALB, Skyreach Center
3/3: Kamloops, BC, Kamloops Riverside Coliseum
3/5: Kelowna, BC, Skyreach Place
3/7: Vancouver, BC, General Motors Place
3/8: Spokane, WA, Spokane Arena