A Bit Of Bubbly Fun On New Year's Eve
By JONATHAN PERRY, Boston Globe, January 2nd, 2001.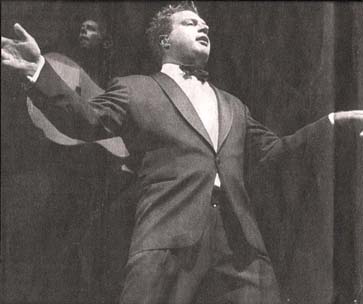 Toronto's Barenaked Ladies are a band whose personality could be reflected in the glasses of champagne they were drinking at midnight Sunday: effervescent; somewhat frivolous (but the band, like the beverage, contains a potent kick if consumed in large quantities); and best enjoyed with friends during times of frolic and fun — which is what New Year's Eve is all about. Of course, not everybody likes champagne — even the good kind — and the quality of brands can vary greatly.
Fortunately, the members of Barenaked Ladies didn't have to worry about such things. They were in a packed house filled with balloons and surrounded by consumers who loved the stuff. And the fact of the matter was that the versatile and clever, if occasionally cloying, quintet proved itself a quality brand when it came to pouring out generous portions of carefree kicks (more than two hours' worth), nice-guy bonding moments with its audience (Sunday's 19,600-seat FleetCenter show sold out weeks ago, and yesterday's second show was headed the same way) and roughly two dozen songs that, more often than not, managed to balance humor with heartbreak, and adolescent pranks with adult passion.
For every pop-culture sendup there was a serious, or at least semiserious, moment to match it. Along the way, singer-guitarists Steven Page and Ed Robertson offered choreographed imitations of Eminem, Britney Spears, and 'N Sync; summoned the much-maligned polyester and teased-hair ghosts of '70s disco and '80s techno; name-checked Yoko Ono and Robert Downey Jr.; and pledged their undying affection for "Sesame Street's" Ernie and Bert.
One of the night's two encore closers, "I Love You," was a tortured, sweaty slice of ersatz-but-effective soul sung by Page (who split the difference between Blues Brothers-era John Belushi and Otis Redding). Meanwhile, "Brian Wilson," a breezy but tender homage to the famously eccentric Beach Boys songwriter, remains the best thing they've done — an impeccably crafted pop song befitting its subject.
Delving liberally into the band's five-album songbook, the Ladies opened with the meaty arena-rock crunch of "Too Little Too Late" from its new "Maroon" album. The song began with all five members — bassist Jim Creeggan, drummer Tyler Stewart, and keyboardist Kevin Hearn rounded out the lineup — in formal attire, entering said arena through the mouth of a float shaped like a voodoo mask. Page, strolling the stage in tux and bow tie, belting out a brassy reading of "Alcohol," came across like a rhinestone cowboy from Vegas, a huckster nephew of Frank Sinatra who' d perhaps listened to a bit too much Tom Jones for his own good. No matter. There was the dub-and-drum-loopy new single, "Pinch Me," to be savored, as well as the accordion-laced country shuffle "If I Had $1,000,000" and old faves such as the motormouth smash "One Week" (sounding more than ever like the old '70s AM-radio nugget, "Life Is a Rock (But the Radio Rolled Me)."
At their best, the Ladies can be sly, goofy fun with a darker undercurrent. The derailed office romance of "Conventioneers," for instance, was a weirdly compelling hybrid of Lambchop, Ben Folds Five, and Bread, three radically different groups. During less inspired moments, however, they tended toward middle-of-the-road, adult contemporary fare — "Life, in a Nutshell" was a mushy midtempo ditty that Toad the Wet Sprocket might have envisioned.
Guster, a Boston band with roots in Tufts University that's been opening shows for BNL since last fall, delivered a shining, 50-minute set. The bass-less trio, which includes a drummer who eschews drumsticks in favor of his hands, performed most of its recent second album, "Lost and Gone Forever." Singer-guitarists Ryan Miller and Adam Gardner's close harmonies were all summer and sunshine, while drummer Brian Rosenworcel made floor toms seem superfluous. Bonus for BNL'ers: Robertson's guest vocal appearance on "Either Way."