'We're all pretty good boys. We were all raised properly.'
By PATRICIA HLUCHY, macleans.ca, December 18th, 2000.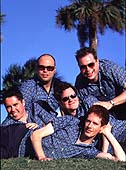 There's something funny about the Barenaked Ladies. Always has been. It started 12 years ago with the Toronto band's choice of that name and nerdy clothes like shorts and bowling shirts. And then there are the droll songs and goofy stage antics — all of which have endeared them to millions of fans around the world. But the Ladies' good humour isn't just schtick; it's an intrinsic quality that they summoned up two years ago to deal with misfortune. Just after the quintet recorded its soon-to-be-a-megahit album Stunt, their keyboardist, Kevin Hearn, was diagnosed with leukemia. The soft-spoken 31-year-old remembers countless gestures of love and support from his band mates, their families and everyone who works with the group. But the other Ladies also kept him laughing during his 18 months of serious illness. Just before a life-saving bone-marrow transplant from his brother, they "all phoned and sang 'Happy transplant to you' to the tune of Happy Birthday, " he recalls. "They did a New Year's Eve show in Philadelphia and called me on a cellphone from the stage and had the whole audience cheering."
Hearn is now fully recovered and on the road with the band to promote its new album, Maroon. Barenaked Ladies tours have become triumphal marches through the major venues of North America, but the group — formed in 1988 by singer-guitarists Steven Page and Ed Robertson, now both 30 — hasn't lost its bearings. A few hours before showtime recently at the Acme Amphitheater in West Palm Beach, Fla., the scene backstage is anything but the stereotypical seven deadly sins of rock 'n' roll. Drummer (and married father) Tyler Stewart, 33, is preparing to work out on the exercise machines that travel with the band. Bass player Jim Creeggan, 30, has his yoga teacher with him. A blue bedspread is laid out on a patch of grass so that Robertson's wife, Natalie Herbert, and their two young children can hang out with Page's spouse, Carolyn Ricketts, and their two little sons. "We're all pretty good boys when it comes right down to it," says Stewart. "We were all raised properly."
Once the Ladies take the stage at 8:30 on this balmy Florida night, they engage in a two-hour love-in with 6,000 fans. Many hold signs wishing Robertson a happy 30th birthday. Among the dozens of people accompanied by children is Weston, Fla., podiatrist Eric Weinstein, who's there with his wife, their 13-year-old son and 11-year-old daughter. "The Barenaked Ladies are good, clean-cut fun," he says. But as the crowd sings along to old and new songs, the band proves its playfulness can have a cutting edge. Between tunes, when Robertson wonders out loud why the Ladies continue to dwell in the cold north, Page offers: "We just don't love guns enough to live down here."
After the show, the musicians chat with fans who have won contests to meet them. The Ladies clearly enjoy talking to people who have helped make them Canada's most internationally successful band right now. Then, at 1 a.m., they board their buses for the 3 1/2-hour drive to Orlando. The next night there will be more worshipful fans — and more Barenaked wackiness and warmth.