Barenaked Ladies keyboardist, feeling like a million dollars
By ANTHONY VIOLANTI, Buffalo News, November 26th, 2000.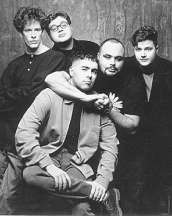 The road back from leukemia and a bone marrow transplant started in Buffalo for Kevin Hearn.
Hearn, 31, plays keyboards for the Barenaked Ladies, the Toronto band that has been riding a wave of success. The group, whose current album is titled "Maroon," performs in the HSBC Arena on Saturday at 8 p.m.
For Hearn, it's sort of a homecoming. He was on the verge of worldwide stardom with the Barenaked Ladies when, in March 1998, he was diagnosed with cancer of the blood-producing organs. With that news, his life changed in an instant.
"I had this feeling of wait a second, I'm just getting going here," Hearn said in a recent telephone interview. "I have so many plans and dreams. But cancer has no consideration for that, and I found out it could all be taken away in the blink of an eye."
Two and a half years later, Hearn, whose cancer is in remission, has learned from his ordeal.
"It sounds corny, but the reality of how I feel is that each day is a blessing," he said. "For the better part of a year I couldn't get up to take a shower and lacked enough strength to pick up a phone. I couldn't even talk on the phone because my mouth hurt so much.
"You go through that and you really begin to appreciate the simple things our bodies allow us to do. Now, when I'm up on stage playing piano, I really am thankful. I consider it a gift, and I have a responsibility to use that gift wisely and not waste any of my time."
Hearn joined the Barenaked Ladies in 1995 and fit right in with Steven Page, Ed Robertson, Tyler Stewart and Jim Creeggan, who had worked together for almost a decade.
In the spring of 1998, they were on the verge of releasing their breakthrough album, "Stunt." That's when the band discovered Hearn was fighting for his life.
Robertson told the crestfallen Hearn not to worry about the band, and "do what you have to do to get better."
Page, at first, thought Hearn was going to die.
In the summer of 1998, "Stunt" went over the million mark in sales, elevating the Barenaked Ladies to rock star status. Hearn found out about it in the hospital, after receiving a bone marrow transplant from his younger brother, Sean.
By October, Hearn was feeling better. Actor Jason Priestley, a longtime fan of the band, was working on a documentary about the Barenaked Ladies.
Hearn, still weak but somewhat stronger, was stewing about not being in the film. The band was due to play a date at the HSBC Arena, one of the first U.S. cities to support the band in the early '90s.
"Jason kept egging me on to make the Buffalo show," Hearn said. "I had been thinking about it a lot. I wouldn't say it was resentment or anything, but it bothered me that they were filming this documentary and I had to be in the hospital.
"I'm thinking, "Oh man, they're doing a movie and I can't be in it.' Jason knew how I felt and he just told me, you've got to come to Buffalo and play."
Hearn's sister drove him from Toronto to Buffalo on the day of the show. The band came out and played and then Page introduced the keyboard player this way: "Our hero, the strongest man we know — Kevin Hearn."
Everything was fine until Hearn tried to play a rented keyboard set on the stage. Nothing came out. Technicians scurried around and someone finally fixed the problem. The other band members were laughing and then crying. Page was just happy to see his band mate, and said it was "unbelievable to see him alive. It was like a miracle."
Hearn will never forget that night.
"I can't tell you what it meant to me," he said in a soft voice. "I was so emotional and so happy to be back on stage.
"Then I stepped out and the guys and the crowd gave me so much support. It really was the moment I was waiting for; kind of like I'm still here."
The performance, by the way, is featured in Priestley's recently released movie, "Barenaked in America."
Like the rest of the band, Hearn has a fondness for Buffalo.
"When I was a kid, I always watched Commander Tom on TV. Buffalo has always been an important city and objective for Canadian bands.
"When you can't afford to do a full-length tour of the States, Buffalo is an approachable city. It's close, you can go there for a night or two and then come back to Canada."
Hearn still remembers his first gig here.
"We parked our van in a remote parking lot near downtown," he said. "A guy approached me and opened his coat. He had a VCR in it and wanted to sell it to me. That was my first impression of Buffalo."
The Barenaked Ladies are now as popular around the world as they have always been in Buffalo. The band has had a string of hit singles such as "One Week," "Old Apartment," and "Brian Wilson." The Ladies are currently featured on the soundtrack for the film, "How the Grinch Stole Christmas." And their latest album, "Maroon," has already sold more than 1 million copies.
The group is in the middle of a national tour before packed audiences, and Hearn is adjusting to life on the road again.
"I'm starting to feel a little bit like my old self, but I still have to pace myself," he said. "As time goes by, I've learned a new perspective on life and a sense of my limitations on how much energy I have for each day."
The demands are high, but so is the standard of success for the band.
"We've certainly realized our dreams and been more successful than we expected," Hearn said. "The other day I was with Steve in L.A. We had just done the Jay Leno show, and there was a chauffeur waiting for us outside the studio.
"I looked at Steve and said: "How did this ever happen?' I enjoy the limos and the private jets and everything else, but you can't let it go to your head. With each degree of success you have new pressures and challenges. At the end of the day, you can't let it overwhelm you."
The band has its share of critics. Some say the Barenaked Ladies are a soft pop band, appealing to the masses with a funny songs and a nerdy image.
"Maybe people don't like us because there's a lack of anger in our music," Hearn said with a laugh. "We'll have to try some Eminem."
Still, radio has always embraced the Ladies music.
"They cut through all the bull that's in music today and reach people on a one-to-one level," said Rob White, program director for the River, 101.1 FM. "This is an entertaining and fun band, but they have a serious side."
White noticed that serious side by the way the rest of the band dealt with Hearn's illness. "You could tell it bothered them," he said. "Externally, they put on a brave face but internally it was much harder for them.
"I would talk to then and you could sense it. But they all had the goal that the Barenaked Ladies would continue. I think what Kevin went through made them all stronger. It's a feel-good story in a time when there's so much bad news in music."
Fans support of the band never waivered.
"The Barenaked Ladies have one of the most passionate fan bases in music today," said Dave Universal, program director of 98.5 WKSE-FM. "The people out there just love this band."
Thus far, band members have managed to cope with the stardom.
"I think we're wearing it well and we feel we deserve the things we've achieved," Hearn said. "You sacrifice a lot in this business, in terms of time and leading a normal life.
"We had one tour where we were on the road for 22 months. I don't know a lot of people who would want to be away from home that long. You can lose touch with your friends and you're part of a traveling circus.
"We've been through a lot of hard times together and I think that creates a bond. We can talk our problems out and we're close to each other."
That closeness was only enhanced by Hearn's struggle.
"The way they reacted really opened my eyes," he said. "Their message to me was that we really love you and you're our friend. That's not something guys in a band say to each other everyday on the bus.
"I was really touched by it and that's why I have such a commitment to this band. It's a rare thing in rock 'n' roll."