Let's have a big hand for Ladies
By JANE STEVENSON, Toronto Sun, November 25th, 2000.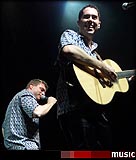 Band makes triumphant return with ACC concert
TORONTO — Barenaked Ladies were working the city's waterfront this week.
Naturally, I'm referring to Toronto's beloved pop act, who, fresh from their gig high atop the CN Tower on Thursday evening, played their first-ever show at the Air Canada Centre last night.
Clearly, it was a giddy moment as lead singer Steven Page attempted a life-threatening dance move early in the evening.
"Playing your biggest show ever in your home town is a good time to try a new move and maybe break your spine!" joked Page.
The Ladies, who are touring in support of their latest album, Maroon, played the Molson Amphitheatre last summer, but given hockey has a special place in their Canadian hearts, the ACC gave them some new material to work with.
At one point, Page asked everyone in the room to help "summon the spirit of Harold Ballard" — to a chorus of boos — while guitarist Ed Robertson inspired a chant of "Go Leafs Go!"
It was not like the sold-out crowd of 15,000 really needed any encouragement in the "I Am Canadian" department.
Before the band even ran onto the brightly coloured stage, entering through the mouth of an enormous head and dressed identically in blue shirts and shiny black pants, the audience had spontaneously broke into a rendition of Oh Canada.
But given this was a Ladies show, there was no way the group was going to let it the evening get too earnest.
For example, Robertson complained of his outfit: "These are the hottest friggin' pants I've ever worn in my life! I feel like Martin Lawrence up here! I'm going to pass out!"
Tyler Stewart, meanwhile, attempted a drum solo to Phil Collins' In The Air Tonight while fast-paced editing worthy of the Hawaii Five-O opening was displayed on four video screens surrounding him.
Keyboardist Kevin Hearn also scored points as he managed to combine Britney Spears' Oops ... I Did It Again with Star Wars storm trooper music.
The majority of last night's set list was from Maroon and the group's 1998 U.S. breakthrough, Stunt, although older favourites like Jane, Brian Wilson and If I Had A Million Dollars also surfaced much to the crowd's delight.
In fact, during an inspired medley, Page boasted, "We're going to play every song we've ever written!", the band played snippets of tunes while all of their song titles scrolled past on the video screens, just like some cheesy, late-night infomercial.
You've gotta like that!