Stunt Your Growth with The Barenaked Ladies
By JON RICH, The Music Monitor, July 1st 1999.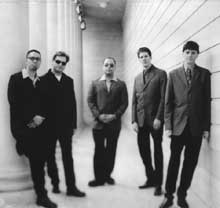 The Barenaked Ladies are probably the best damn band whose songs you've heard but just can't remember where. Last year these Canadian musicians who are superstars in their homeland, but unknown down south, finally achieved chart success with the singles "The Old Apartment" and "Brian Wilson," off the live album Rock Spectacle. Now the quirky band who started out in the States with the catchy "Be My Yoko Ono" is trying to extend its winning streak by proving the past was not a fluke.
Barenaked Ladies' guitarist and lyricist Ed Robertson recently spoke to The Music Monitor about trying to top their previous success with their new release, Stunt, as well as Canadian rap and the ever-powerful Burt Bacharach.
---
Your group has been called the "unknown band that's incredibly popular" and "the successful band that's invisible." What does that mean to you?
I think our success has been largely word of mouth by fans. We have really great live support and it's only recently that we have started to get any mainstream support at all. We're not something that an average listener would stumble upon. Now that there's a lot of radio stations playing the band and we're starting to get more television appearances, that's changing. But for about the last six years, if you've known about the Barenaked Ladies, it's probably because one of the members of the band mentioned them! It's just been spreading out from there.
Another thing that you've had to overcome in getting noticed is that the band is from Canada. Now it seems as if your music is finally crossing the border.
Well, we don't want to seem an invasion threat, but that is what we are doing. See, if we did it too fast, we might risk appearing hostile. Our intent is certainly to control your borders.
A friend of mine bought Rock Spectacle based on hearing the single "The Old Apartment." Initially, he didn't like the rest of the album, but it slowly grew on him the more he listened to the entire work. I've heard that's a common reaction to your band.
That was a fear of mine with "The Old Apartment" being so successful, because it's pretty much the most atypical Barenaked Ladies song. The rest of the album doesn't sound much like that.

That said, what's the first single off Stunt?
I think it's going to be the first track, "One Week."
Interesting. I'm almost afraid to tell people who are not familiar with the band about "One Week." It has rap on it...
It sure does.
You'd think that a bunch of Canadian guys known for power pop branching out to do a rap song would outright suck, but it's actually pretty good because the band really manages to pull it off.
(Laughs) That was my next move after growing up in country music. Seriously, I was weaned to play George Jones songs and sing along with my parents on all their country favorites. I moved into sort of rock stuff next, and when I got tired of that it was hip-hop for about eight years. It's been a huge influence on me. We're always rapping at our shows just for fun, doing free-style rap stuff. Our fans and the members of the band have been wanting to hear some of this on record because we love it, have fun with it, and I think we do it well. So, finally we put our money where our mouth is.
This is probably me reading into the songs too much, but there seems to be an underlying theme on Stunt about sleep and dreams. There's "Who Needs Sleep" about an insomniac, and the ballad "When You Dream." Did you mean to do that, or is it just a coincidence?
Oh, not at all, but it's not surprising to me that after almost two and a half years of non-stop touring that we'd be singing about sleep! It's funny, because that's the kind of thing that we don't notice until somebody else brings it up. During the process, one of our producers said we used the word 'ear' three times in one song. We went back and changed one of the lines so we weren't so 'ear-heavy.'
I know Barenaked Ladies will be on the H.O.R.D.E. tour and you've been known to pop up on soundtracks (Friends, Beverly Hills 90210) from time to time. What does the summer hold for you Ladies?
We'll be on H.O.R.D.E. all summer and we'll do our own tour in the fall. As far as soundtracks, we have a couple of extra tracks that didn't make it to the record that may see the light of day somewhere. Did you see the TV special we did recently, the Burt Bacharach special?
Nope, missed it.
Oh, it was fucking excellent. While we were finishing the record, we got a call about this 'One Special Night with Burt Bacharach.' We were like, 'Is Burt going to be there?' And they said, 'Yeah, it's his show, and the confirmed artists are Elvis Costello, Dionne Warwick, Luther Vandross, Sheryl Crow and Chrissie Hynde. Would you like to be added to the list?' I put my hand over the phone wondering if they knew we weren't Celine Dion, and they said the only song left for us to do would be "This Guy's In Love With You" or "Close To You." I was wondering how it was possible that "Close To You" was left, 'cause it's everybody's favorite Bacharach song. We ended up performing it on TV with Burt Bacharach playing piano. It was excellent, so much fun.
Oh, I almost forgot the most obvious question: What does the album title Stunt refer to?
We had more problems coming up with a title for this record than anything we have ever done. Usually we have a title in mind months in advance, but this record was way more about the songs and getting great band performances. When it came to putting it all together under the umbrella of a title, it was really difficult because it is really an eclectic record. I think it's a big departure for us and there's a lot of departure within itself. It was really hard to unite that with a theme. We went with Stunt because the word itself embodies some sort of ambiguity. The immediate thing that most people think of is Evel Knievel risking his life, but there's also the connotation of trying to stunt somebody, much like lack of sleep from two and a half years of touring might do...
There's that sleep thing again.
Yeah, you're right. (Laughs) And then there's pulling a stunt on somebody, or having one pulled on you. It's kind of a double-edged sword and we were looking for something like that because we knew the record had two faces.
Speaking of different faces, both Rock Spectacle and the Shoebox EP offered fans something extra in the form of multi-media concert clips and videos to supplement the tracks. On Stunt, that something extra is missing. Did those things just not go over well, or were you wary of the multi-media presentations being seen as so me sort of "stunt?"
We've realized from experience that it kind of deteriorated the sound quality of the record. After you master the record, the entire thing gets digitally remastered to incorporate the multi-media stuff. You end up compromising the sound quality of the record. First and foremost, that's what it is, a record. Those other things are just little bonuses. When they compromise the sonics of the record, I think that's a problem. Maybe we'll do a single with the multi-media, because I like to do it, but not at the expense of the music, because that's why it's out there in the first place.