Lady Luck
By SEAN DAVIDSON, Toronto.com, October 7th, 2000.
Don't be alarmed, maybe it's okay to like the Barenaked Ladies again.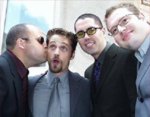 It's starting to sound an awful lot like one of those Canadian conspiracies we always hear about: a cabal of scheming Canucks sneaking south of the border to take over the U.S. entertainment business.
Consider the evidence: after years of struggling to break into the U.S. market, five former street buskers from Scarborough move their band to Canadian-owned Nettwerk Records, the same people who smuggled Sarah McLachlan and Moist onto MTV. Then a buddy from B.C., who just happens to be ex-90210 star Jason Priestly, makes a documentary about them just as they launch their biggest-ever U.S. tour. The new CD, Stunt, sells three million copies and the first single hits number one. They get it all on film and show it at the Toronto International Film Festival.
"I just wanted to make a movie about my buddies... but dammit, they had to go and get famous," says Priestly at a press conference for Barenaked in America, the rockumentary he shot about Scarborough's leading export, Barenaked Ladies (a.k.a. BNL).
A long-time fan and friend of the band (he also directed the video for "The Old Apartment"), Priestly says he intended to make a film about the band's on-going struggle to make it big in the U.S. As it turns out, the Ladies hit it big halfway through the shoot, when "One Week" reached number one on the Billboard chart. The movie ended up being about BNL finally making it big in the U.S.
It's a very dressed-down rock movie, much like the band themselves. Intercut with concert footage, the film shows the Ladies clowning around backstage and on the tour bus; fans scream, flash, wave and throw Kraft Dinner at the camera; band members and a few celebrities (Conan O'Brien, Jon Stewart) talk about the group and their music. There's even footage of that Anne Murray special and their now-famous performance on Speaker's Corner. (Note to conspiracy nuts: Moses Znaimer is in on it.)
Priestly and crew followed the band for two weeks and pieced the film together for just more than half a million dollars. "Cheap!" Priestly says. "Cheap like borscht! Are you kidding me? Rattle and Hum cost $25 million to make."
Too bad that all the concert footage is from their show in Buffalo. BNL's U.S. conquest looks less than impressive when, apart from brief shots of Philadelphia and Washington D.C, we see little evidence that their tour bus got any further than Erie County.
Barenaked in America certainly doesn't break new ground — it's no Gimme Shelter or Stop Making Sense — but it's still a very entertaining movie, mainly because Ed, Steve, Tyler, Kevin and Jim are five very funny and immensely talented guys. But the movie's not all kooky improv lyrics and boyish high jinks either. The band and the tour suffered when keyboardist Kevin Hearn was diagnosed with leukemia and took a leave of absence to undergo chemotherapy. Hearn is still in the movie, but his absence from the stage casts an obvious shadow over the famously upbeat band.
"The biggest thing we're praying for now is Kevin's full recovery," says drummer Tyler Stewart. "His health is on all of our minds. Hopefully he can kick [leukemia] while he's in Toronto and join us for the next 10 years."
Asked about their struggle to remain popular at home and break into the U.S. market, singer Ed Robertson admits that things had started to look bleak before Stunt. "We experienced unprecedented success followed by an unprecedented backlash," he says. After the release of their indie "Yellow Tape" and debut album Gordon in the early '90s, radio stations in this town were playing "Be My Yoko Ono" and "If I Had $1,000,000" more than the station ID. But follow-ups Maybe You Should Drive and Born On A Pirate Ship failed to garner strong airplay in Canada or the U.S. Old followers lost interest, and the band had a very hard time finding new fans.
"We were making less money than we would at a part-time job and spending 10 months on the road away from our families," say Robertson. "It got to one point, we thought we might as well have piled $600,000 on top of the bus and drove down the Interstate. We would have got more press."
Although they've regained popularity, the band says Toronto audiences are still a tough crowd, if only because they've heard the material 20 to 100 times before. Are they worried that they might get overplayed and suffer another backlash? "Not really," says Paige. "I'd rather people overdose on one song than overdose on the entire band."
Now that the movie's done, the Ladies are preparing to tour with Bryan Adams through Europe and are slowly getting around to working on a new album. As for their number one fan, Priestly has several indie film projects in the works and hopes to direct again. "I'd love to make more documentaries," he says. "I just need some more ideas."