The Nice Guys of Barenaked Ladies Finish First
By KAREN BLISS, RollingStone.com, October 6th 2000.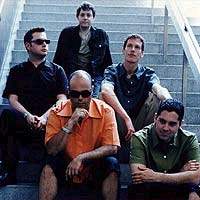 At a time when music's most successful stars garner as many headlines for their dress code, crime records and management disputes as for their music, the Barenaked Ladies are a genuine anomaly among today's pop bands. Despite the healthy media exposure they've garnered as a multi-platinum band (whose latest album, Maroon, debuted at No. 5 in the U.S.), the kooky Canucks of pop remarkably manage to go about their merry way without scandal or controversy.
And for the most part, BNL singer/ guitarist Steven Page likes it that way. "As an individual, there's always lots of opportunity for scandal," assures Page, who shares frontman duties with Ed Robertson. "But I really cherish the anonymity, at least, that I enjoy in Canada. I mean, I live in Toronto. People in my neighborhood know where I live and they don't care."
Besides, what would those people discover if they did care enough to pry? Soiled diapers and toys would reveal Page is the father of young children, and a finger print might reveal he's close friends with Jason Priestley, who directed the band's documentary Barenaked In America. Suffice to say, said documentary exposes BNL as the polar opposites of most pop stars, polite and unpretentious to a fault.
"With any band, with any person, if you really wanted to pry, you can always find dirt," insists Page. "People don't pry hard enough and you think, 'Well, geez, maybe we should get some kind of press officer to try and stir something up, make us look more exciting.'"
There was one incident back in 1991, an amusing, fortuitous circumstance which kick-started the Barenaked Ladies' career. Unsigned at the time, the band was banned from performing at the city-owned Nathan Phillips Square because then-mayor June Rowlands found its name distasteful. They achieved instant notoriety and their self-titled cassette became Canada's first independent EP to go gold (50,000 sold).
Since then, the guys — Robertson, Page, bassist Jim Creeggan, multi-instrumentalist Kevin Hearn and drummer Tyler Stewart — have proven to be so gosh-darn nice, funny and down to earth that the controversy seems preposterous in retrospect, more embarrassing to Rowlands than the name was to Toronto the Good.
The local government recently made amends by giving BNL keys to the city, following a belated make-up appearance at Nathan Phillips Square for a live radio broadcast on the Edge 102, the same radio station which awarded the band $100,000 (Canadian) to record its 1992 full-length debut, Gordon, which facilitated a deal with Sire Records (that album is now diamond in Canada, signifying sales of one million copies).
Strangely, in Canada, the controversy of BNL lies with the public — you either love them or hate them. Their pure pop and unpretentious image stirs up some intense emotions, perhaps because for a while you couldn't escape hearing the Ladies' quirky signature songs "If I Had A $1,000,000" and "Be My Yoko Ono," and, yes, they could be annoyingly silly. So when BNL put out their sophomore album, Maybe You Should Drive, in 1994, it did go triple platinum but interest was steadily waning, so BNL decided to go where they were still welcome — America.
The band earned its first U.S. gold certification with their 1996 live album, Rock Spectacle. Two years of non-stop touring kept their momentum going, paving the way for their major breakthrough with 1999's Stunt, which racked up sales of four million on the strength of the trippy rock/rap single, "One Week."
"We figured we'd take a year off," says Page of the resulting windfall. "Then we went, 'What are we stupid?' First of all, who else gets to take a year off, never mind from a job they actually like? And besides, we did all this work and built up all this momentum, if we took a year off we'd have to start all over again. We said 'Let's just go make another record and start working again.'"
The result is Maroon, produced by Don Was. It was a fitting pairing, as like BNL, Was himself has been pigeonholed as a novelty act in his time, courtesy of the Was (Not Was) hit, "Walk The Dinosaur."
"I think he's bitter about that," Page says. "I think he feels like they got ripped off. Whereas we came to terms with our novelty status a long time ago.
"In the end, it doesn't matter because people like what we do," he continues. "We're not necessarily the 'One Week' band or the '$1 000 000' band — we are to some people — but we know that we're not and lots of fans know we're not. So I think he was very conscious of that, about making sure that we didn't rip ourselves off."
With that perspective, and the kind of comfort that comes with success, the Ladies were free to tackle some dark topics for Maroon, no doubt after receiving a startling dose of reality amid all the glory the band had finally attained — most notably Hearn's battle with leukemia after Stunt was released, and the passing of Page's grandmother.
"It certainly has given me a greater sense of the fragility of life and the value of it," Page says. "You block that stuff out sometimes [on the road] because you're working so hard and you're in this other world, separated from the real personal world, but it comes back to eat you.
"I've done enough looking back at adolescence," he concludes. "A lot of what I've written in the past has been about looking back from a slightly older perspective on the embarrassment of being a young person. More than anything, I guess the album is about trying to take action within your own life and making it happen. I guess it ended up sounding adult."