The Vanity Project News Roundup
The TVP website is now up an running at http://www.vanity-project.com/
The Vanity Project album was released yesterday! Available through iTunes Europe, US, and Canada. iTunes Canada is offering the Wilted Rose video as a bonus when you purchase the album. The album is also available for downloadable purchase through www.vanity-project.com here.
There are five new Steven/TVP articles in the articles section of SameDiff (the five articles, marked green, at the top of the page).
Finally, there are some TVP tour dates:
Tue June 21 '05
Boston, MA - Newbury Comics (332 Newbury St.)
In store performance and signing - 9:30pm

Thu June 30 '05
Chicago, IL - Borders (150 North State St.)
In store performance and signing 12pm

Mon July 25 '05
Sherman Oaks, CA - Tower Records, Sherman Oaks Galleria (15301 Ventura
Blvd.)
In store performance and signing 7pm

Tue July 26 '05
Mountain View, CA - Tower Records (630 San Antonio Rd.)
In store performance and signing

Wed July 27 '05
Portland, OR - Music Millennium Northwest (801 NW 23rd, at Johnson)
In store performance and signing 6:30pm

Thu July 28 '05
Seattle, WA - Easy Street - Queen Anne (20 Mercer St.)
In store performance and signing 6pm

Mon August 1 '05
NY, NY - Borders - 100 Broadway (Manhattan - Wall St location)
In-store performance and signing at 12pm

Thu August 4 '05
Ann Arbor, MI - Borders (612 East Liberty)
In-store performance and signing 7:30pm

Sat September 3 '05
Niagara-On-The-Lake, ON - Jackson-Triggs Niagara Estate Winery

---
The Vanity Project album details
01 - Hit And Run (4:10)
02 - Wilted Rose (4:40)
03 - These Wasted Words (4:11)
04 - So. Cal (3:16)
05 - That's All, That's All (3:42)
06 - Everything's The Same (5:56)
07 - Glitterbug (2:36)
08 - Thank You For Sharing (4:42)
09 - Baby Loves The Radio (2:54)
10 - By The Roadside (3:56)
11 - So Young So Wrong So Long (3:18)
12 - Here Today And Yesterday (2:57)

You can pre-order The Vanity Project Album now through Amazon.com.
---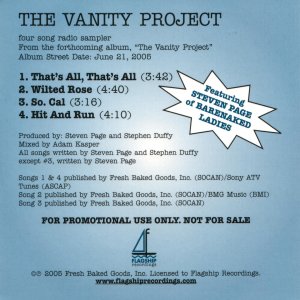 The Vanity Project sampler review
I received my preview sampler of Steven Page's new side-project a couple of days ago, and have been listening to it ever since. For those that don't know, The Vanity Project again sees Steve paired with long-time collaborator Stephen Duffy, this time in the form of an entire 12 song album.
The first thing that strikes me about the four songs on the sampler is the variety musically, each song has a very different sound. Having said this, Steven Page's voice is the very distinctive common link in all these songs. Secondly, the music strikes me as being more mainstream pop music than most BNL, it's certainly less wordy, with short catchy choruses. As a result, you find yourself singing along with the tracks pretty quickly, and it's easy to listen to, almost smooth sounding. Steven Page fans are going to love this, many BNL fans will love it too since it's less of a departure from pure BNL than The Brothers Creeggan or Kevin Hearn and Thin Buckle. I think it's also going to be a little more accessible to the masses in general.
So, on to the individual tracks:
I won't describe the first single That's All, That's All other than to say it's a sweet, cruisy pop song, reminiscent of songs like Powder Blue. You can already listen to an online version of it Here.
Wilted Rose is a deeper reflective song, slightly country sounding with a sad harmonica, neat twangy guitar, and almost live energy. The song speaks of someone upset by all they've seen and experienced, grappling with their current beliefs and stance— "I almost cried, on the day my country died / I almost tried to care." "We sold us out, and they sold us short / and we're the ones that have to pay. / Shall I cast this out, this wilted rose?"
So. Cal is a almost Beach Boy-esque song with castanets and "Sha la las" and rhyming of 'day' with 'Californ-i-a' in the chorus that I initially disliked but have since found myself happily singing along with. "Too old to lie about my age / too young to die up on the stage / Another lonely day / in Southern Californ-i-a"
Hit and Run is a darker, more angry song. The vocals start off whispered but slightly roughened, "Protest song / Sing along," and proceeds spoken, almost as if ready to pounce, through the verses like this. It then rocks up for the chorus, "Hit and Run / Everybody knows who won / You're the chosen son / You don't even need a gun." It's tricky to catch all the lyrics but it seems like it's a protest against a moral protest singer, now given in to the commercial dark-side. (Though I reserve the right to be wrong.) The general style and subject matter of the song, remind me slightly of Matthew Good. I think this song could also work as a single.
The Vanity Project's music is certainly comparable to previous Duffy/Page work, but this material seems more polished and seems to have been given extra attention. The TVP music contains hand-claps, samples, and quirky bridges, but these don't interfere or take away from the music, but rather quietly complement it. If you'd like to know which BNL tracks are Duffy/Page collaborations, this page will provide you with the titles and links into the lyrics section for those songs.
This sampler includes the first single That's All, That's All, and has been sent to radio stations all across the States, so be sure to start requesting it. As for the album itself, it is self-titled and is being released by Flagship Recordings and has a US-only release date of June 21st, 2005. For those of us outside of the US, it will be available via Amazon.
More information, as I know it. ;-)
—Michael, SameDiff.net Admin