---
Welcome,
SameDiff is intended as a kind of Barenaked Ladies Information Archive. A place to find the articles, reviews, lyrics, as well as frequently asked questions about the band.
In creating this site I would like to acknowledge the (unknowing) help of the entire BNL online community. Much of the information presented here has been sourced from The Chatter, the Barenaked.net bb, and the NewsGroup. Without such a vast collection of fans willing to share information, news and links, a site like this would not be possible.
Thankyou,
Michael, SameDiff.net Admin.

---
Corrections, suggestions, submissions, or broken links? E-Mail Me
---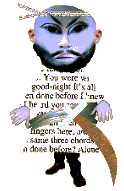 <!IMG SRC="xmas-man.gif" ALT="Christmas Stuntman" WIDTH=161 HEIGHT=314 BORDER=0 VSPACE=10 HSPACE=5 ALIGN=RIGHT>